Difference Between Sprocket and Gear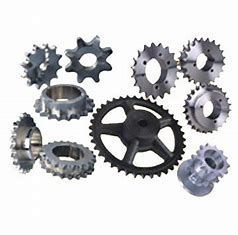 With the progress and development of society, industrial development has also become a mechanized development, not only in the production or processing, machinery for our work has a very big role, especially in the current pipeline work, and ultimately Conveyor Sprocket , With the support of the conveyor sprocket, in order to ensure the normal operation of the assembly line and efficiency, then let sprocket manufacturers talk about the difference between sprockets and Gears today.
Sprocket is an independent part, there are many products on the market and the same nature of the sprocket, resulting in many people do not understand what is the sprocket in the end. Even think sprocket and gear is the same kind of parts, or a part of the gear. This view is wrong, sprockets and gears are still different.
Such as sprocket manufacturers in the manufacture of sprocket manufacturers, the general model is used in English units, and the sprocket is in the chain transmission parts, and the gear transmission is different; sprocket toothed belonged to three Arc a special shape of a straight line, the gear is involute involute; the implementation of the gear shaft drive a little more, the sprocket can only be transmitted between the parallel axes, the gear can be driven on any axis; the gear Processing accuracy higher than the sprocket, so the cost of installation is much more than the Finished Bore Sprocket; gear transmission is relatively dense arrangement. No sprocket, conveyor sprocket can also achieve a little distance transmission; sprocket in some heavy, high temperature environment can also be driven. Wide range of use than gear. But there is no gear in the efficiency of transmission.
Sprocket is a large parts, and gears need more than one component to become a part, different gear and sprocket have different uses, but also have their own different areas and ranges, so the choice of gear or sprocket, you can Choose through your own needs.