What are the characteristics of the timing belt in the transmission?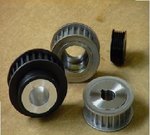 If you know more about the transmission mode of mechanical equipment, you should know that although there are many transmission methods, many devices use synchronous pulleys for transmission. The reason why the pulley is so widely used is that many devices use the device for transmission. The most important reason is that the Timing Pulley has the following characteristics in the transmission, so as to ensure that the device has a good function. The drive effect, which promotes the device's advantages:
The first characteristic of the synchronous pulley in the transmission is that the transmission efficiency is high, up to 98% to 99.5%, which is the first of all kinds of mechanical transmission. With this feature, it can ensure that the equipment has good energy-saving effect when applied, thus promoting the high economic efficiency of the equipment in the transmission.
Of course, the Timing Pulley also has the characteristics of small return gap between the toothed wheel and the IE strict timing belt, no slip, accurate transmission ratio and constant angular velocity. With these features, the pulley can be used for Precision transmissions promote high levels of precision in the transmission of equipment.
Not only that, the Timing Pulley also has the characteristics of no lubrication, oil and moisture resistance, fuel saving and no pollution, which makes it suitable for transmission in food, paper, textile, chemical fiber and automotive industries.