The most common problems and solutions for timing belts and timing pulleys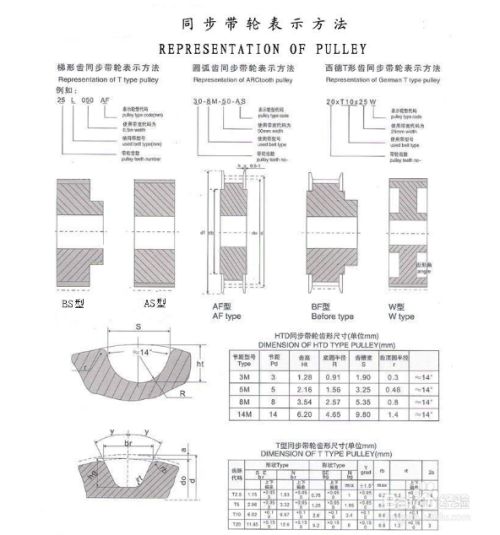 There are two types of synchronous belts, single-sided with teeth and double-sided with teeth, referred to as single-sided belt and double-sided belt. Double-sided belts are divided into symmetrical tooth type (DA) and staggered tooth type (DB). There are two types of synchronous belt teeth: trapezoidal tooth synchronous belt and arc tooth synchronous belt. The timing belt models are divided into seven types: the lightest MXL, ultra-light XXL, extra-light XL, light L, heavy-duty H, extra-heavy XH, and super-heavy XXH. Trapezoidal tooth synchronous belt transmission has standards (GB11361~11362-89).
Under the specified tension, the linear distance between the centerlines of two adjacent teeth is called the pitch, which is represented by p. Pitch is the most basic parameter of synchronous belt transmission. When the timing belt is bent perpendicular to its bottom edge, the circumference line that keeps the original length in the belt is called the pitch line, and the pitch line length is represented by LP. The tooth profile of the timing belt pulley is recommended to adopt an involute tooth profile, which can be processed by Fan Cheng method. Straight side tooth profile can also be used
The characteristics, advantages and disadvantages of toothed synchronous belts are studied. It points out the precautions and basic requirements of daily prevention for textile machinery when using toothed synchronous belts. The mechanism of the "creeping teeth" phenomenon of toothed synchronous belts is discussed, and the methods, key points and solutions to prevent the "creeping teeth" phenomenon are put forward. It has important guiding significance for textile enterprises that use toothed synchronous belts.