Introduction to welding method of conveyor sprocket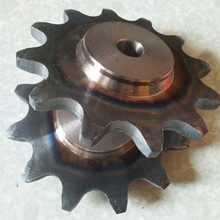 The Conveyor Sprocket has applications on many mechanical devices and can play a certain role in transmission. It can be used in conjunction with the chain to drive it. The Conveyor Sprocket needs to be welded during production, and the welding parts should be cleaned and tested to ensure that there are no defects, and a little bit of remediation should be carried out to prevent unqualified products from appearing. Let us talk about the welding process of Zhejiang conveyor sprocket manufacturers.
Conveyor Sprocket
(1) Before welding, prepare the electrode before drying, use the drying box to pre-dry the electrode, E427 electrode to dry 350oC, heat preservation for 2h, electrode drying 250oC, heat preservation for 2h, dry and put in 100~150oC incubator for heat preservation, use Take it with you. Keep dry when using.
(2) Cleaning and inspection of the supporting wheel Before the welding, the defect parts are cleaned and flawed first, and the defective parts of the supporting wheel are manually cleaned and polished until no defects are present.
(3) Treatment of defects If the defect penetrates from the outer surface of the roller to the inner surface, the single-sided U-shaped groove is used for welding, and all the defects are cleaned before welding, and then the defect is welded.
(4) In order to prevent the possibility of defects during the welding process, preheating must be carried out before welding, and the welding temperature is strictly controlled during the welding process, and heat treatment is also required after welding to eliminate the welding residual stress.
(5) For the worn roller surface, the wear is welded to the size to be processed to meet the processing requirements.