How is the timing pulley driven?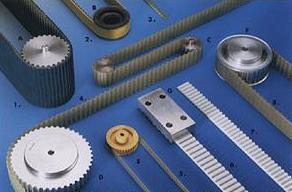 Even people who are not directly in contact with the Timing Pulley know that this is a transmission device that is used in many devices and is an important part of many equipment transmission systems. Of course, for the average person, most of them only know about a kind of transmission device. They don't know much about other aspects. It is not clear how they are driven when applied.
The transmission of the timing pulley is specifically composed of a circumferential belt having an equally spaced tooth shape on the inner circumferential surface and a wheel having a corresponding anastomosis. The working face of the belt is the side of the tooth. During operation, the convex teeth of the tape mesh with the tooth groove of the pulley. Since it is an meshing transmission, there is no longer relative sliding between the belt and the pulley, so that the main and driven wheels The transmissions between the two are synchronized.
The transmission process of the XH400 Timing Pulley is as described above. From such a transmission process, it should be ascertained that the pulley cannot be separately driven, but it must be installed together with other devices such as the timing belt to form the entire transmission system. Under the working engagement, the transmission system is operated normally to play the transmission function. Therefore, although the pulley has many advantages in terms of transmission, it also requires good cooperation of other components to truly exert a high level of transmission function.