Harvester Sprocket Accessories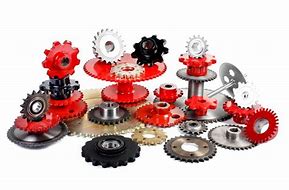 harvester sprocket is divided into an active sprocket and a driven sprocket, wherein the sprocket is installed in the form of an output shaft of the engine; the driven sprocket is mounted on the driving wheel and the power is transmitted to the driving wheel through the chain; Small sprocket, can play a role in deceleration. What is the characteristic of the harvester part sprocket?
harvester Sprocket Accessories Features:
Harvester part of the use of sprocket hobbing (the market general use of red processing), although the higher processing costs, but good concentricity, beating small, to ensure the smooth operation of the chain, the use of longer. Hob at the same time to ensure involute involute shape, although it looks sharp tooth shape, but the actual work part of the wider and more durable. The material of the sprocket is 20CrMo carburizing treatment (except for some special technical requirements) (high frequency quenching of 45 # steel on the market and only surface hardness), the hardness of carburizing products is higher, and the service life is longer.