What is the timing pulley?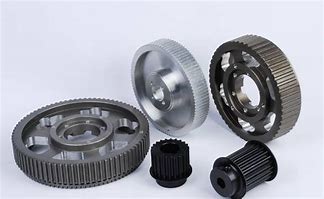 In the synchronous toothed belt drive, in order to prevent the timing belt from slipping off the Timing Pulley AT, the pulley must have a retaining disc. The retaining disc should be 1 to 2 mm higher than the back of the belt and have an inclination of about 5 degrees. When the wheel speed is greater than the limit speed, dynamic balancing must be performed. When the speed is lower than the limit speed, only static balance is required. After the balance detection, the residual unbalance of the pulley should not exceed the allowable value.
When the AT10-31 Timing Pulleyinstallation is deflected, the belt side is pressed against the retaining plate, and the timing pulley causes the belt side wear to be intensified. Therefore, the parallelism of the pulley axis must be paid attention to during installation so that the transmission center plane of each pulley is on the same plane. If the belt is overloaded or the pre-tightening force is too large, the pitch will be poor, resulting in meshing interference and tooth surface wear. When overloading, the bearing capacity will be greatly reduced, and the HTP 8M-30 Timing Pulley design will prevent the synchronous toothed belt application. Overload and choose the appropriate preload.