Sprocket in pipe chain conveyor accessories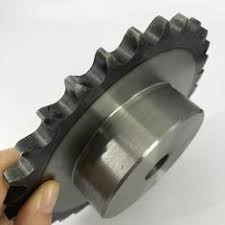 The pipe chain conveyor accessories include a tail box and a nose box. The front sprocket is installed inside the head box, and the Conveyor Sprocket is connected to the motor, and the passive sprocket and the driving sprocket are installed inside the tail box of the pipe chain conveyor accessory. The chain is connected with the Conveyor Sprocket, the chain is installed in the circular conveying pipe between the head box and the tail box, the feeding port is provided on the conveying pipe, and the discharging port is arranged on the lower part of the head box or the conveying pipe. In this regard, the structural design of the head box, the chain structure, the drive sprocket, the tail box and the like is optimized, so that each component in the pipe chain conveyor component can be used more efficiently.
The new type of conveying pipe in the pipe chain conveyor parts is assembled into a whole circular pipe in sections to achieve a complete sealing effect. It is very beneficial to environmental protection for extremely fine dust materials, harmful materials and related occasions. At the same time, it has the characteristics of accurate material level, low maintenance rate, reliability and durability, high conveying efficiency and long service life.
Pipe chain conveyor accessories fully meet the needs of various occasions, such as tilting, turning, vertical, and can be installed in parallel in parallel on multiple lanes to meet the operation of multiple loading and unloading.